Triund "It's so fascinating to be in Triund. One will
remember it for life"
TRIUND HILL – "HEAVEN ON EARTH FOR NATURE LOVERS, HIKERS and TREKKERS"
Triund "It was so fascinating to be in Triund. One would had remembered it for life"
"Triund Hill with its actual top point @10,632 ft and temple of Kunal Pathri Devi, hosts a ridge @9150 to 9414 ft, offering first camping spot, famous as Triund to its South East with 4-5 tea stalls and a Forest Department Rest House and second camping spot at SnowLine Cafe after 2 hours hill-walk to North at around 3300 meters MSL and Laka"
Triund is one day hiking trail on one of the oldest migratory route seasonally used by "Gaddi Shepherds" of "Chamba Valley" and Kangra Valley.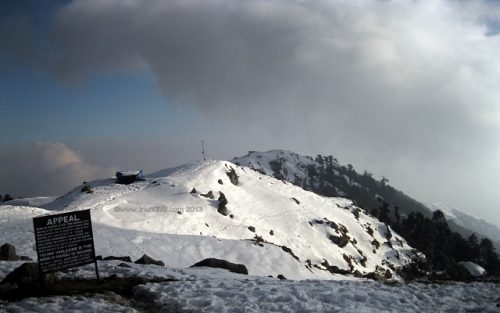 Triund Hill is located at a height of about 2,842 meters above sea level and with a distance of about 9 kilometers from McLeodganj (located at height of 2,082 meters above sea level) and 17 kilometers from Dharamsala. During your trek if lucky enough, you can see the birds like Alpine Ancestors and wild animals like musk deer and black bear. Once you reach at the first campground Triund, of Triund Hill, you will find yourself standing in front of the mighty and humble looking Dhauladhar (the mountain peak of Dhauladhar is at an altitude of about 4,800 meters from sea level).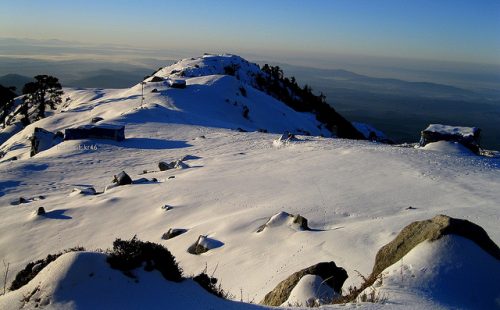 On a clean day you can have a spellbound view of Kangra along with the hills surrounding Triund Hill. Once you reach Illaqa/Laka your soul can experience the positive energy that Dhauladhar Mountain disperse off all around. The shepherds, hikers and trekkers cross over Indrahar-Pass Jot (located at height of about 4,342 meters above sea level) to reach Chamba via Kuwarsi and Holi
Triund hosts the majestic views bestowed upon by Nature and possibly in the whole World or say North India, the nearest snowline in the entire Himalayan mountain range, here snowline is located in the shortest distance of about 13 kilometers (Distance from McLeodganj). Though now due to Climate Change the glaciers of Dhauladhar are shrinking away at a fast pace.
Once on Triund Hill and one can see the beautiful layers of hills housing small villages spread below in the vast expanse of Kangra valley. On the real top point of Triund Hill, the temple of Shri Kunal Pathri Devi is located and you will find a suitable and comfortable route or trail of 60 minutes for the temple from the backside of the Snow Line cafe, the second high campground of Triund Hill.
The temple of Shri Kunal Pathri Devi is possibly the highest point of Triund Hill, from here one can have wide 360 degree panoramic and full view of Triund itself and of Kangra Valley. Besides Dharamsala and wide horizons, Dhauladhar Mountain is closest to feel from here.
Today, Triund has become a popular trail among the domestic tourists and the international tourists, especially the foreign tourists, making it a one of the favorite travel, hiking and camping destination and a hill station in India, Himachal Pradesh . Local tourists come here for picnic and for recreation and some daring tourists even utilize the height of Triund Hill for adventure activities like Paragliding. Though the suitable take off site for Paragliding in near the temple of IndruNagm, which can be reach from the road to Khanyara via Kotwali Bazar, Dari village or Sidhpur.
The trek starts with climbing a steep slope from McLeodganj and further up to Triund, the trek is covered with thick deodar and oak trees. The fresh, crisp air through these trees fills your spirit with enthusiasm and gives you strength to reach Triund Hill.
In Spring season the hill slopes and the path starting from McLeodganj to Triund are filled with lots of wild flowers, and edible rhododendron flowers which is also the National Flower of Nepal and many other Himalayan wild flowers. Apart from this you will witness awesome trees with artistic shapes molded by the strong winds for years.
It takes many-many years for a small plant to grow as a huge tree and sustain Life on this planet and it takes less then 10 minutes to cut down a fully grown tree, Please Help Plant and Protect Trees!
There are three shops which provide tea, breakfast, lunch and dinner to the hiker and campers, now there are at least 5 tea stalls/ cafes along the trail to Triund Hill. Food is little expensive here due to transportation cost. Shopkeepers bring raw stuff for cooking and cooking gas on mules and each mule owner charges 300 INR to 400 INR. Soft drinks, water bottle and tea will cost you as low as 50 INR and 20 INR respectively. Indian food rice and pulses, curry, noodles will cost around 85 to 120 INR. Accommodation is available in the rooms of Forest Rest House and two private guest houses, to book rooms of forest rest house, one need to visth the Forest Complex, behind Park Restaurant which is opposite to General Post Office and Police Station of Dharamshala. Two men tent cost starts from 700/- INR* and that includes, mat and sleeping bag for a night.
You can either plan a one day hike or camp up in Triund for more than two days with friends in your own tents or Rest House of six cozy rooms with a store and kitchen, managed by Himachal Forest Department. You can book one room for as low as INR 500** per day by contacting the Divisional Forest Officer Dharamsala prior to the commencement of your trek (food is charged separately and room rates may vary as per the regulations of Forest Department).
Some other easy hiking destinations near Triund Hill are Kareri Lake, Guna Mata, Bagga Campsite, temple of Aadi Himani Chamunda Devi, which can be overtaken with some information and without guide. While there are some high Mountain Pass like Gaj Pass, Indrahar Pass, Minkiani Pass, Lam Dal (the longest natural lake of Dhauladhar), Nag Dal, Baleni Pass, BhimGasturi Pass, Toral Pass, Kundli Pass, Bohar Pass, Talang Pass for which you need a professional and local guide.
Beside Dharamsala there are few hiking spots in neighboring Tea city, Palampur.
(If you can manage to carry your own food stuff and cooking set then you will feel happy for not spending extra money. But then are you going up there for relaxation, peace and joy or not for cooking).
One can access or Hike and Trek to Triund and Laka or Illaqa in McLeodganj, Dharamshala, and Himachal Pradesh via:-
Road: – 1. Pathankot to Gaggal then Dharamsala. 2. New Delhi to Chandigarh and then Kangra and finally Dharamsala.
Train: – The nearest railway stations on the Simla-Kangra of narrow gauge line are at Jassur (Nurpur, Kangra, and Himachal Pradesh) and Paror railway stop near Nagrota (about 20 kilometers south of Dharamsala). The nearest railhead of broad gauge is at Pathankot (about 85 kilometers).
Air: – Gaggal Airport (which is also known as Kangra Airport) to Gaggal market and turn left for Dharamsala. No need to go Kangra.
Once you are at Dharamsala Bus Stand or ISBT you can board bus for McLeodganj (bus fare is INR 10) or shared taxi (fare is INR 10) or special booked taxi (may cost INR 300) to reach McLeodganj. During off season hotel rooms in Dharamsala and McLeodganj are economical and affordable.
From McLeodganj you first reach Dharamkot and then Shri Galu Devi temple (located at a height of about 2,300 meter). Here you will find a small refreshment shop named Rest A While and another new cafe Sun and Moon Cafe that gives you the best views of Kareri Village and Bhagsunag.
The track from Shri Galu Devi temple gets a bit of tough, with steep curves and moderate trails. It takes you about four hours (leisurely trek) and three hours (fast trek) to reach Triund Hill, depending on one's stamina. For some it may take six hours to reach the top. On your way to Triund you will come across two refreshment shops first one named Magic View Cafė at a height of 2,500 meter, run and owned by Mr. Joginder Sharma since 1984 and other adjoining Magic View Cafė is Best View Cafė run by Mr.Hemraj since 1998.
From Triund Hill if you are adventurous enough, 3 kilometers away you can reach the Snowline Café, run and owned by Mr. Jai Chand Sharma and it is located at a height of about 3,200 meters and will consume one and a half hour of time.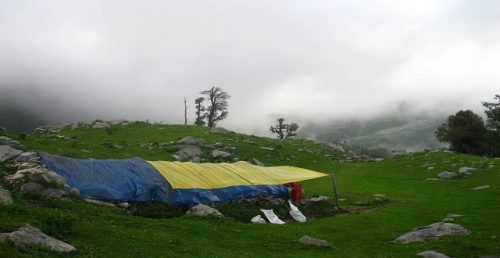 In snowline you will find the remains of stone huts which were used by Gaddi Shepherds (now abandoned), Illaqa which is located at a height of 3,300 meter lies ahead of Snowline Café. Illaqa is used by shepherds for grazing their livestock from May to September. During summers some monks come to Illaqa for meditation and prayer.
Next to Illaqa is Lahesh Cave at a distance of about 2.5 kilometres. You'll find easy to locate markings to reach Lahesh Cave if you intend to go alone, these markings are in red color arrow and stone piled up on rocks by hikers. Lahesh Cave can shelter about 20 people comfortably. There is a snow fed waterfall by the side of Lahesh Cave.
Distance from Mcleodganj to Triund is around 9km from Gallu Devi temple and 14 km from Mcleodganj.
"When to go Triund Hill": Trek to Triund is open all season, still the best time visit there is during the month of August and October. If you love to see the snowfall and play in the snow then, March is the perfect month as in this month there is mild snowfall and rain.
Though the start of snowy weather in Triund and Dhauladhar range starts after November month and it lasts till first week of April month (depending upon the circumstances of global warming the snowy season may last until June). And during rainy and snowy season one is advised to carry along all warm clothes which may increase the weight of your bag, but then it is worth of its weight. When you reach the top of the hill and you see snow everywhere on Triund Hill and on mighty Dhauladhar. While you can go to Triund trek in November on your own. Trek in December month is completely dependent on the level of snowfall and if there is heavy snowfall then you need to hire a local guide.
The difficulty level of Triund hiking is like hard for the ones who are new in hiking, trekking and camping, while for intermediates it is easy hiking and for professional climbers and hikers it is more like a hill walk.
Still a word of caution, Never Judge a hill or a mountain by its height and trail, ones over confidence and negligence can prove fatal, even in trail like that of Triund Hill.
Weather of Triund Generally weather of Triund Hill remains pleasant all year along except in Snowfall season (Dec to March), while between July to August one will face Monsoon showers and foggy curtain between Triund Hill and Dhauladhar, early morning and night temperature in winter time go below minus, while in summer it is moderate cold by evening and early morning.
The local travel agencies charge affordable trek cost for hiking and camping. There are plenty of local guide and agencies that offer reasonable trekking package.
and INDIAN COPYRIGHT ACT, 1957