Explore Dharamshala: Your Ultimate Guide to Tourist Attractions
Dharamshala, nestled in the picturesque state of Himachal Pradesh, India, is a haven for nature lovers and adventure seekers. With its serene landscapes, vibrant culture, and a plethora of tourist attractions, Dharamshala has something to offer for everyone. In this comprehensive guide, we will take you on a virtual tour of Dharamshala's top tourist spots, using valuable information from Triund HIll.
1. McLeod Ganj
McLeod Ganj, often referred to as "Little Lhasa," is the most famous and vibrant part of Dharamshala. It's not only the residence of His Holiness the Dalai Lama but also a hub for Tibetan culture. Visitors can explore the Tsuglagkhang Complex, which houses the Dalai Lama's temple, the Tibet Museum, and the Namgyal Monastery. The serene atmosphere and stunning mountain views make McLeod Ganj a must-visit destination.
2. Triund
One of the most renowned trekking destinations in the region, Triund offers breathtaking views of the Dhauladhar range. The Triund trek is suitable for both beginners and experienced trekkers, making it accessible to all. At the summit, you'll be rewarded with stunning vistas and a sense of accomplishment.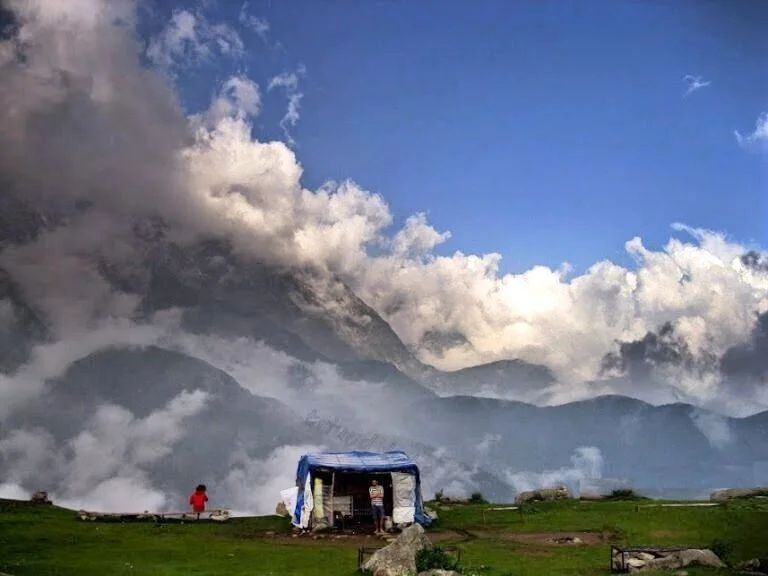 3. Bhagsu Waterfall
Located just a short hike away from McLeod Ganj, the Bhagsu Waterfall is a tranquil spot to unwind and enjoy the beauty of nature. The cascading waters and lush surroundings create a perfect setting for a peaceful day trip.
4. Dharamkot
Dharamkot is a quaint village known for its peaceful ambiance and meditation centers. It's an ideal place for those seeking solitude and self-discovery. You can also explore the Tushita Meditation Centre and the Vipassana Meditation Centre here.
5. Kangra Valley
Dharamshala is surrounded by the lush Kangra Valley, famous for its scenic beauty and rich history. Visit the Kangra Fort, one of the oldest forts in India, and explore the Kangra Art Museum to learn about the region's cultural heritage.
6. Dal Lake
Not to be confused with the more famous Dal Lake in Kashmir, Dal Lake in Dharamshala is a serene spot for a leisurely stroll or boating. The calm waters surrounded by lush greenery create a serene environment.
7. Tea Gardens
Dharamshala is home to lush tea gardens, where you can take a guided tour to learn about tea production and sample some of the finest teas. The aroma of fresh tea leaves and the scenic surroundings make it a delightful experience.
8. Norbulingka Institute
The Norbulingka Institute is dedicated to preserving Tibetan art and culture. Explore the beautifully landscaped gardens and witness artisans at work. You can also shop for authentic Tibetan crafts at the institute's store.
9. War Memorial
The War Memorial in Dharamshala pays tribute to the brave soldiers who sacrificed their lives for the nation. It's a peaceful place to reflect on the sacrifices made by the Indian armed forces.
Conclusion
Dharamshala, with its diverse range of attractions, promises an unforgettable experience for travelers. Whether you're a nature enthusiast, a spiritual seeker, or simply looking for a peaceful getaway, Dharamshala has it all. Plan your trip to this beautiful hill station in Himachal Pradesh, and let its natural beauty and cultural richness leave you spellbound.
Remember to check the latest travel advisories and plan your visit accordingly. For more detailed information about Dharamshala and its tourist attractions, you can visit Triund.