Triund Hill the GetAway
Triund Hill on a 9km moderate trek from McLeod ganj serves as the getaway.
On the first day of trek you can reach Triund and spend some time enjoying the beautiful horizon and Kangra Valley. As the evening falls in you can witness a lovely sun set and golden Dhauladhar. You can stay one night in Triund Rest House or in your own tents.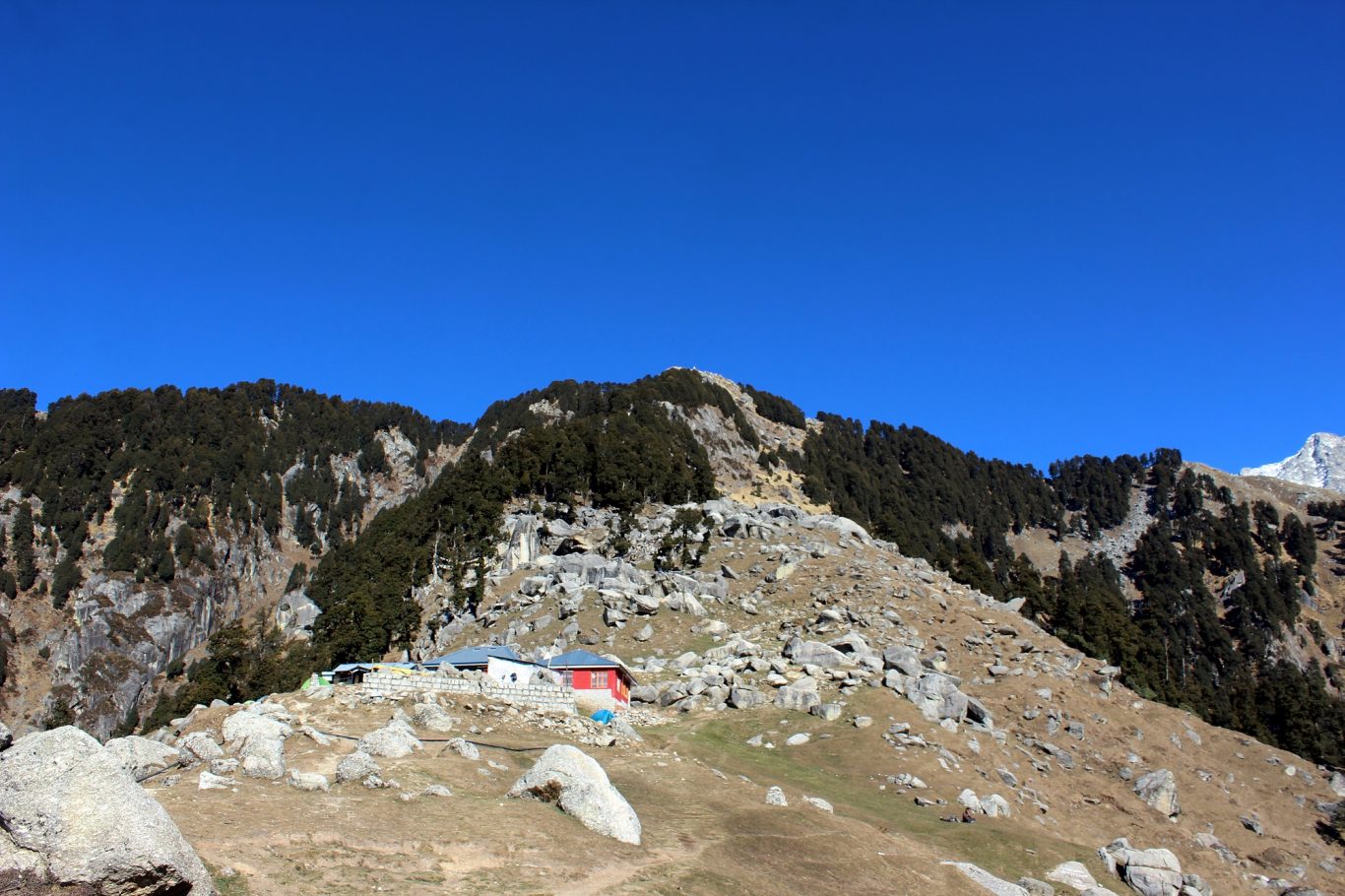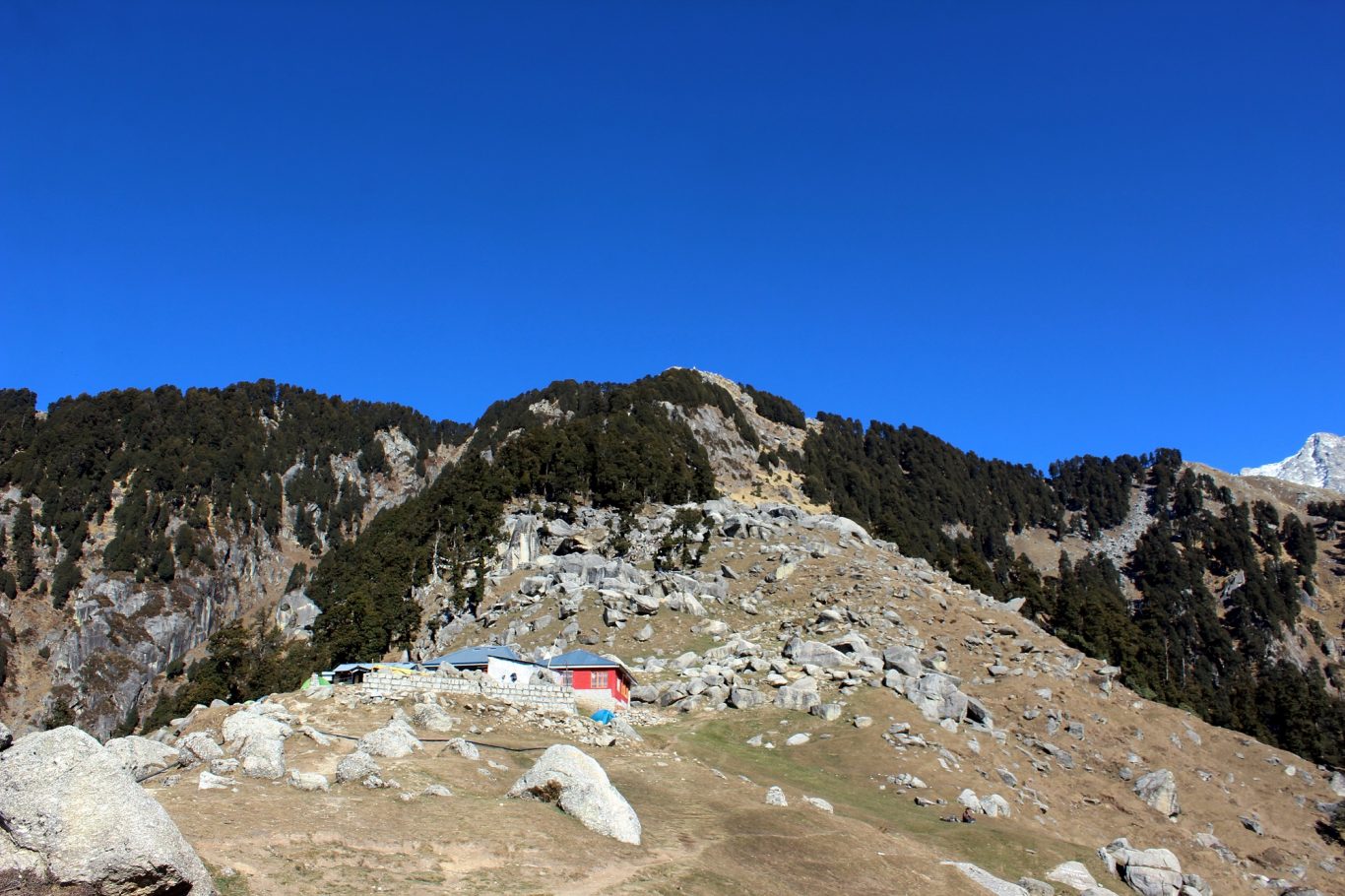 On the start of the next day you can feel the nippy morning in the shades of Dhauladhar and also view a wonderful sun rise. After breakfast you can start your trek to original temple of Kunal Pathri Devi situated on the highest point of Triund Hill. You can reach the temple from Snow Line Café. From Triund it takes around 1 hour to reach Snow Line Cafe
and after regaining some energy at the cafe can continue your trek from here of about 1 hour to reach temple of Kunal Pathri Devi.
From here you can have complete view of Triund itself and more of the extended view of Dharamsala and Kangra. You can retreat to Snow Line Cafe and after having lunch and a little rest over there can continue your trek up to Illaqa the green meadow but mostly crowded by huge rocks and here you can also witness the remains of Old Rest House of Forest Department and shelters built by the shepherd.
Laka serves as the point of the base camp for the trekkers and the shepherd going over the Indrahar Pass to Chamba Valley. After walking through Illaqa you will come across some rocks marked with red arrow in front of the first patch of the glacier or the rivulet.
Follow the red arrow marks that will lead you across the glacier fed rivulet and climb a height of approximate 800 meter and you will come across the waterfall on the right side and to your left you will find the naturally formed rock cave named as the Lahesh Cave at an approximate height of 11398 ft from mean sea level. Lahesh Cave can shelter about 15 to 20 people comfortably. You will reach Lahesh Cave by Sun Set. The view of Triund Hill from here will be amazing. If there are no clouds over Dhauladhar then you can also witness the peak of Dhauladhar. To most of the trekkers the Lahesh Cave serve as second pit stop on their trek to Chamba via Indrahar Pass. From the Lahesh Cave the trail to Indrahar Pass is about 900 meters but due to the steep nature of the trek…..it takes 1 to 2 hours to reach Indrahar Pass. Once you are in Indrahar Pass you stand over Dhauladhar and between Chamba Valley and Kangra Valley, as after Indrahar Pass you step in to Chamba Valley. Indrahar Pass serves as a Getaway.
Indrahar Pass is at an approximate height of 14264 ft from sea level. Acute mountain sickness (AMS), altitude illness, hypobaropathy, or soroche are some common issues one might face over here. So go prepared for such things so that you could enjoy your trek to the maximum. One can have splendid sight of Triund Hill from Indrahar Pass and arc of Earth in horizon and upper layer of floating pileus clouds as visible from airplanes. Beside this on a clear day, down in South one can see plains of Himachal and Punjab and revered peak of Mani-Mahesh Kailash and the snow-white Pir Panjal Range in the Northern side and Peaks and Passes of Lahul & Spiti and on the East the highest Peak of Dhauladhar range in Kangra Valley, the Mun Peak 15124 ft.
The views from Indrahar Pass are so beautiful that we have no words to describe it until you see it yourself.
In earlier years there have been casualties on this pass due to bad weather and over confidence.
There is a commemorative plaque dedicated to three trekkers of The Pioneer's Adventure Society, Bikaner, Arvind, Bhanu and Surya who lost their lives around the Pass on May 26th, 1986.
As per the experienced shepherds and trekkers, the climb to Indrahar Pass or any other mountain peaks should be attempted or undertaken before noon, same applies here too, as weather conditions up in the peaks is very uncertain. Even on a clear sky day, clouds may appear from nowhere along with strong winds.
Even from here the trail is marked with arrows in red paint, still it is easy to get lost if you lose concentration…..so come well prepared so that in case you get drifted from the trek you can make way back to Indrahar Pass and then the Lahesh Cave. But then it is the part of Adventure just you have be careful.
After Indrahar Pass next is Chatha on Chamba side. The trek to Chatha is really sharp and unsteady. The local Gaddis have shaped out small steps/stairs here for painless descent, still you need to be extra careful and not be over-confident. As said earlier the trail over here is not marked yet it is not difficult to locate Chatha Cave at an approximate height of 12139 ft. The Chatha Nallah/rivulet serves as the landmark and to locate and reach Chatha Cave. You have to keep going on the trek on the left top of the bank of Chatha Nallah/rivulet and good watchful eyes will easily locate the Chatha Cave campsite. The Chatha Cave can shelter only 4 people.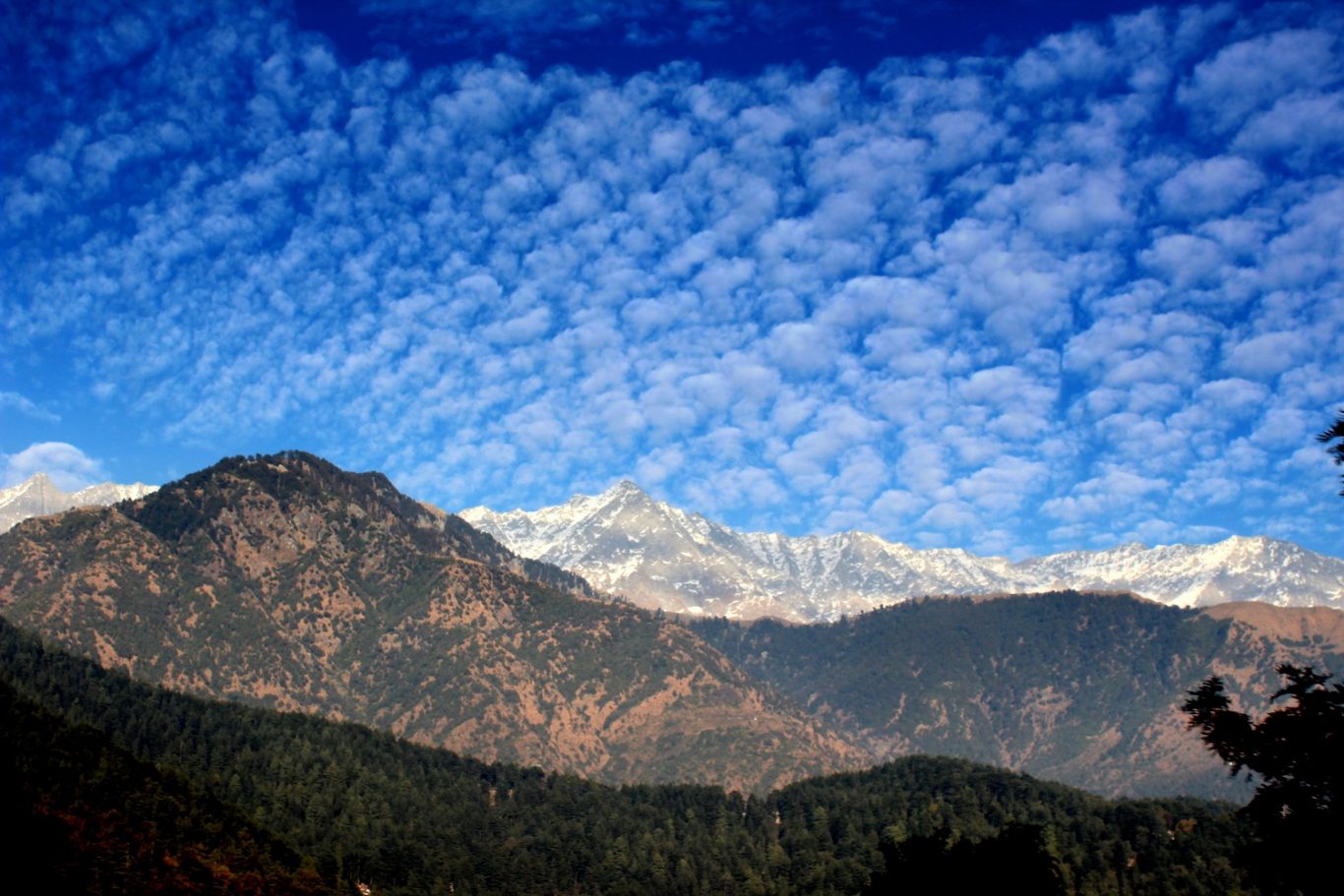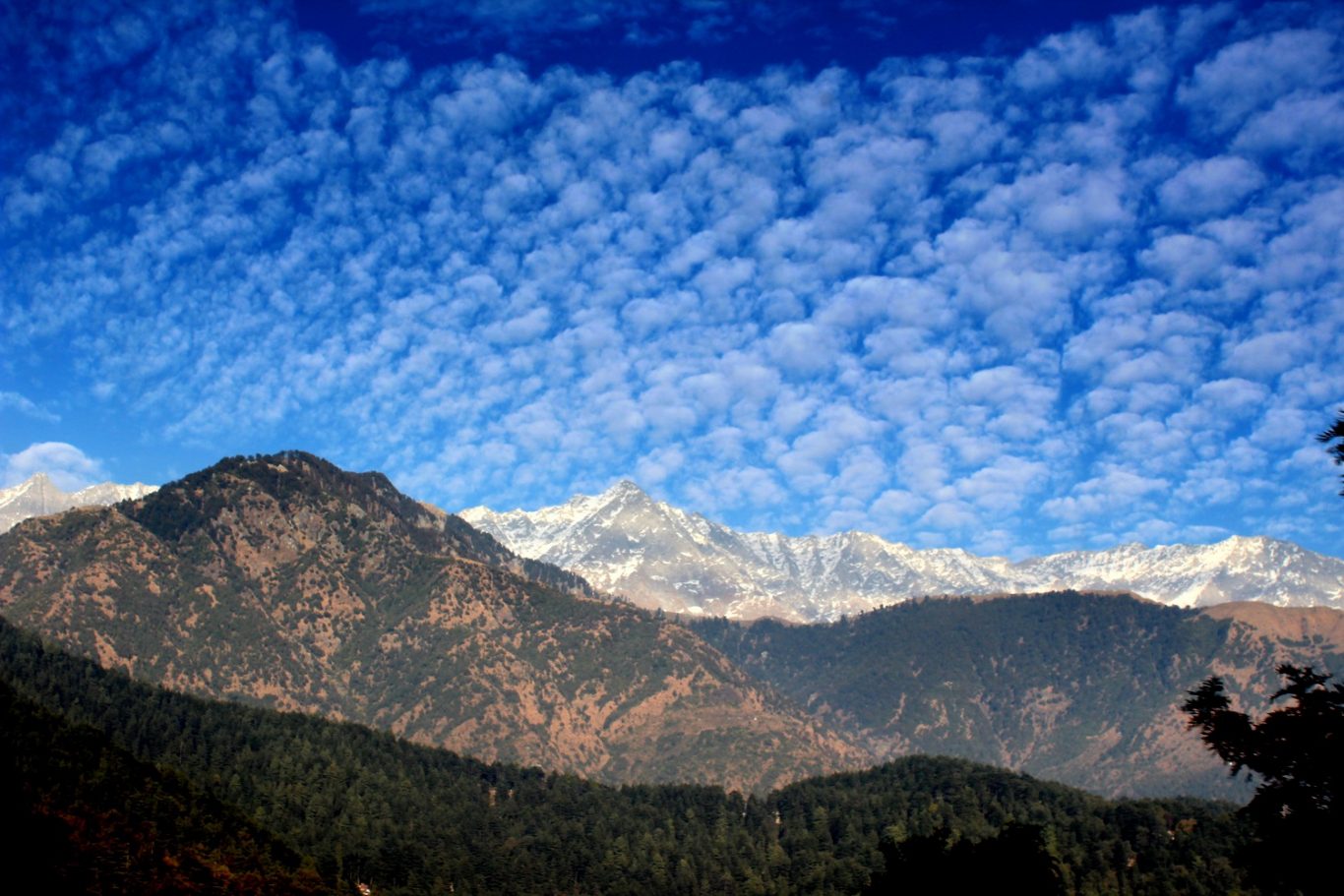 Well once you locate the Chatha Cave campsite you can camp here for the night and start your trek to first village on this trek named Kauarasi located at an approximate height of 8858 ft. On the next day you can start the trek to Kauarasi village and the trek is narrow yet it is well marked by local Gaddis and the trek goes on the top left of Chatha Nallah/rivulet. The trek to Kauarasi offers stunning views of the Pir Panjal range the mid Himalayan range with an approximate height ranging from 14763 ft to 21325 ft. Again here on this trek you have to be extra – extra careful as the walls of the ravine is almost upright…..so go slow here. There is a wooden log to reach the other side of the Chatha Nallah. After crossing the river you'll come to face the rock-slide and need not to worry as by the time the trail must have been restored, still if you see the rock-slide you have to hike through it and will reunite to the actual trek to Kauarasi village. ( Triund Hill the GetAway )
©2022
Protected by INDIAN COPYRIGHT ACT, 1957
[hurrytimer id="6021″]