Triund in December 2023
Well this winter season, since November 2018 there was good snowfall in lower hills and heavy snowfall in high altitude mountains.

Current situation in Triund is like that the region has witnessed heavy snowfall as usual. This is almost mid-March 2019 and at present, we are still getting moderate snowfall in lower hills.
This on-going mild snowfall is just adding up to the heavy snowfall that happened between November and December 2022.

In January 2019 we had gone for moderate snow hike up to Triund Hill. Even then the Triund trek was covered under heavy snow.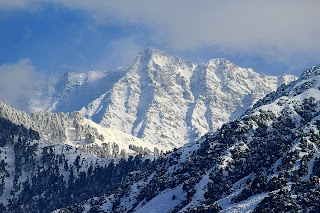 With this much snow in lower hills, the temperature reaches minus and in Dharamsala the temperature has bitter chill. Though the weather is pleasant with sunshine and clouds in high mountains.
In January 2019 the snow level in Triund was around 5 feet and the fresh snowfall of February and March has just added to that level. Now in current month of March 2019 there is enough snow that has covered even the Rest House of Forest Department, from bottom to top.
That is there is around 10 feet or more of snow, enough to cover whole of the Rest House in Triund. So you can imagine the condition of the shops in Triund.
Last March 2018 or even say December 2023 was like almost dry. There was less or no snow at all.
But this time, we have good snowfall. But question arises, will this much of snowfall help revive the Glaciers of high mountains!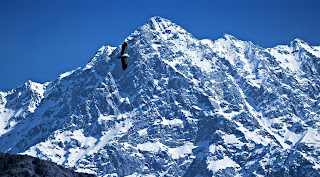 Will this revive the glaciers in Laka? Personally we feel that, it won't do much. Only if there is less of summer heat, which is very unlikely to happen.

Earlier Laka Glacier used to last from April to December, but from last 6-7 years that Glacier stretch in Laka has disappeared. The Laka glaciers have gone extinct.
Potable water was sourced from Laka glacier to Triund. We have seen water running from PVC pipes in Triund. All of which was sourced from the never ending Glaciers of Laka in High Dhauladhar Mountains.

But now there is no glacier in Laka and no running water in Triund Hill. In Triund there is a covered water tank and that tank was used to be full of running water. But now it remains all dry. Even the open tank is of no use. The open water tank can't even hold rain water.

So the shop owners and other fetch water from some tiny mountain creek at a distance about 2 km. From that creek, it is really a hard climb with filled water canisters weighing around 20 liter.
We had once fetched 40 liter of canister from that tiny creek 20 liter on each hands and that was a hell of climb. At present even that tiny mountain creek has dried out and now the shop owners have to go little farther down to fetch potable water.

So after the glaciers of Laka have gone extinct, there is no running water in Triund. Even this heavy snowfall will most probably won't help revive the glaciers in Laka.
But let's hope and for that we have to practically act on to bring down the rising temperatures. What we are creating for our generations to come is not some heaven but a hell! Money will not help buy clean water and clean air. Your ocean beds are already full of plastic; even the fish that you eat have tiny particles of plastic in them. So once you eat sea food, you also eat plastic.
We have put up hydro dams on Mountain Rivers and with that, river water is also polluted. We are constructing roads for ease and comfort. It is good for but only for short time.
We are consuming Natural sources at such a pace that, things are just getting worse.
There is good news for the people of Dev Bhumi, Himachal Pradesh. The good news is that Kangra will have another Central University in Jadrangal near the temple of Chamunda Devi. For that we are just going to chop off around 18000 trees. (The figure could be near 20000 trees)

These 18000 trees took ages to grow up and help sustain life and increase the natural beauty of the region. But we are developing the region.

During the construction of the Central University, it will provide job to many people. Once the Central University will come up, the jobs of manual labour and of engineers will go away. Many students will study there. The all constructed Central University will give more jobs to the teachers and the professors.

These teachers and professors for their livelihood will then "just" teach verbal "Environmental Science" to the students. They will even impart lectures on "Nature Conservation" and on "How can we reduce Global Warming"!
So the point is, the heavy snowfall of this season will help revive our dying Glaciers? Will this heavy snowfall in high Dhauladhar Mountains help bring back the already extinct Glaciers of Laka.
Laka lays ahead the Snowline cafe.
Current situation in Triund Hill is like that, the heavy snowfall has even covered whole Rest House of Forest Department. It is really bitter cold out up there. Camping will remain close for March and may be till mid-April.
Your Code