Triund Hike August
We started our Triund Hike on August 17th 2013 at 10:00 am and with brilliant views and company of fellow tourists and hill walkers we reached the top by 12:00 pm. Though monsoon was in full swing we found plenty of tourists in Triund Hill, some were climbing enjoying the drizzle on the trail and some were preparing to head back to hot and humid city plains. The shield of dense fog was preventing the view of Dhauladhar Mountains and it was some movie like scene in Triund with fog all over and visibility up to 10 to 15 meters. Though everything was same still fog effect was making a great moment for the silhouette shots. Rest House of the Himachal Forest Department was reserved up to next three days and we still had not made any arrangement for our one night stay. We headed towards Sunil Tea Shop for lunch and noticed newly set up temple dedicated to Lord SHIVA. After setting up our place for stay we had our lunch and then it was time for more of rain and fog. The play of fog was showcasing amazing views of Triund landscape. After rains we walked to meet Lalu and there we met the youngest and courageous trekkers seen till now.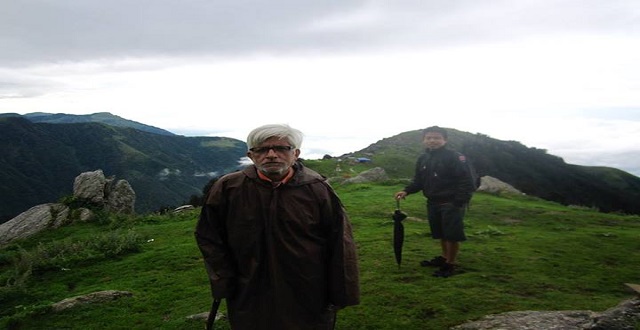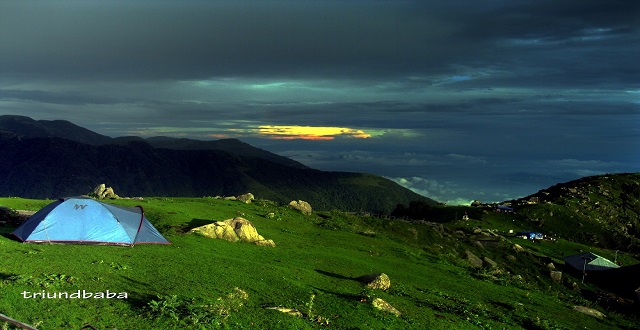 Gordon got himself engaged playing with little black puppy in the shop of Lalu and I was standing watching Mun Peak of Dhauladhar. The western sky was opening up slowly and we saw two tourists/hikers coming from SnowLine Cafe….as they passed by we asked where to they been and they said the "PASS, Indrahar Pass". By the time Gordon also joined me. We were discussing about Mountains in England (Gordon is from England). As we were chatting and enjoying ourselves, sun rays pierced through the clouds and lit up a small part of Triund right in front of the shop of Lalu. The mix of Blue tent, Green grass and Sun rays was the best view of the day and in the distant on the Eastern side we noticed a faint Rainbow (I'd been to Triund many times but this was my and Gordon's first sighting of Rainbow).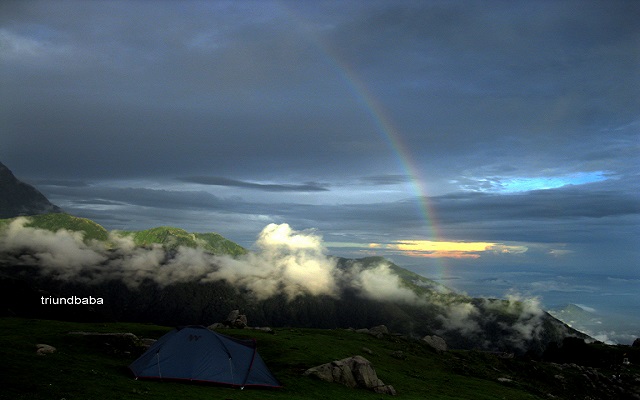 A moment later as the sun was going down in western horizon the rays were doing magic with Dhauladhar Mountain and then came another brilliant view of the day with angular sun rays over the trail of Indrahar Pass over Lahesh Cave and clouds throwing dark shade on the edges of Dhauladhar Mountain and Indrahar Pass (The words can't do the justice to the moment and view you experience with your own eyes and soul).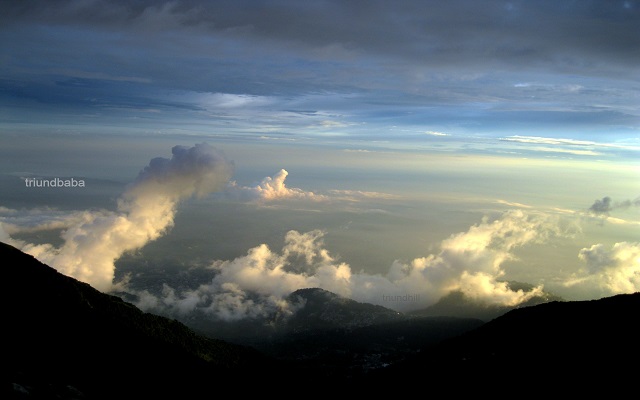 After sun set we headed to Sunil Tea Shop and there we met two tourists from Finland and they were planning for another walk up to SnowLine Cafe and also asked if we were interested. Gordon looked at me with questioning eyes and then I put down my words "If I go to Snow Line Cafe, I'll be tempted for more….!" Sunil served us Dal and Chawal and after dinner we headed to sleep. My mind was playing with decisions whether to go to Snowline Cafe or return and after arriving at the conclusion, I suggested Gordon to set up an Alarm for 05:00 am for the next morning and went to sleep. In the middle of night it started raining and while asleep I wished it should continue to rain till morning. Well it was 04:30 AM and I was up but still in bed….it was not raining and I heard the sounds of birds and raven. I got out of the bed and refreshed myself and asked Gordon to get ready. There were other tourists too from Delhi and they wanted to photograph the sun rise, but seeing the clouds in the East I doubted a clear sunrise. By 06:00 AM we were prepared and ready to leave….for SnowLine Cafe (I'd planned to take Gordon up to Lahesh Cave beyond SnowLine Cafe and Illaqa)……!